Control your lights from your mobile phone or tablet device. Set various dimming scenes and time rooms to light up and turn off at certain times of the day or night.
It was only a couple of years ago that this relatively new concept would have cost upwards of 20 thousand dollars to implement in your home. It would involve running all sorts of cables throughout your home and causing damage to walls and ceilings in the process. If you were smart about it and had the installation done whilst renovating, you would have saved yourself some heartache but still, dollars upon dollars for labour alone would have been pouring out of your pocket and into someone else's, not to mention the expensive hardware and programming that was required. If you decided you didn't like the program settings after a period of time, you would then need to pay a programmer to come in and re-program to your liking. (and they're not cheap)
Gone are those days! New technology, or old technology implemented in a very clever way rather, now allows for these results to be achieved relativity cheap and without running cables and making mess. They can be achieved without expensive hardware and without fancy programmers. In fact it's as easy as changing a light switch and takes about ten minutes to set up each room. Now I say that with a degree of hesitance because obviously that still involves a licenced electrician. However, all you literally need after that is a smart phone or tablet device with a Bluetooth connection and a small amount of time to set it how you like it.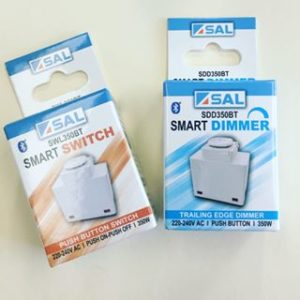 There are various different brands taking advantage of this technology but the most notable we have come across is the SDD350BT range from SAL. I recently installed these in my own home and I absolutely love them! I don't love them so much in the mornings as I have all bedroom lights set to 100% brightness at 5am to wake me up but that aside they are fantastic. The first day I installed them I didn't mention it. I was messing around that evening and turning the bedroom lights on and off from my phone in the lounge whilst my other half was in there. I did this three or four times before going thorough and telling him I just saw a chair move on it's own. The look on his face was priceless. See, endless fun…. Of course, you can actually use it like an adult……. A few functions include-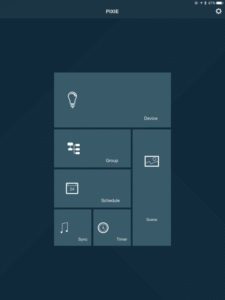 TIMER FUNCTION: set dimmers or dimmer
groups to remain on for set time period and fade
over required period.
SCHEDULE FUNCTION: set dimmers or dimmer
groups to turn off, turn on or fade at set times
and days of the week.
GROUP FUNCTION: group dimmers together
into dimmer groups.
SCENE FUNCTION: set up a range of dimming
level scenarios (scenes) by individual dimmers,
or dimmer groups.
All of this is set and controlled the SAL Pixie APP which can be downloaded for FREE. The app is really user friendly and it's very easy to set up each lighting scene or timers.
The verdict – A really smart piece of technology which can very easily be integrated into any family home, giving a sense of absolute luxury whilst enhancing security for a very small price. User friendly and more importantly, user programmable. Well done SAL! Excellent work! We love them.
I hope you have enjoyed reading and I hope I was able to provide you with something of value. I would love to hear your feedback and invite you to leave a comment in the comment box below.
If you did find some value and you would like to be kept updated, you can follow us on Instagram or Like us on Facebook where I will be posting more relevant content for your enjoyment.
You can also sign up to receive my monthly newsletter by entering your details and dropping the word "newsletter" in the comment box below.
Warmest Regards,
Scott McLaren
Local Electrician @ Scott Electrics